Generic JavaScriptComponent
JavaScriptComponent is a simple UI component that can work with any JavaScript wrapper without Vaadin component implementation. Thus, you can easily integrate any pure JavaScript component in your Jmix-based application.
The component can be defined declaratively in an XML descriptor of the screen so that you can configure dynamic properties and JavaScript dependencies in XML.
XML-name of the component: jsComponent.
Defining Dependencies
You can define a list of dependencies (JavaScript, CSS) for the component. A dependency can be obtained from the following sources:
WebJar resource - starts with webjar://.

File placed within VAADIN directory - starts with vaadin://.

Web resource - starts with http:// or https://.
The list of dependencies is defined in the dependencies element. Each dependency is described in a nested dependency element.
Specify a dependency path in the path attribute.
Example of defining dependencies in XML:
<jsComponent id="timePicker"
             initFunctionName="ui_ex1_components_javascript_TimePicker">
    <dependencies>
        <dependency path="webjar://jquery:jquery.min.js"
                    type="JAVASCRIPT"/>
        <dependency path="vaadin://timepicker/wickedpicker.min.js"/>
        <dependency path="vaadin://timepicker/wickedpicker.min.css"/>
        <dependency path="vaadin://timepicker/time-picker-connector.js"/>
    </dependencies>
</jsComponent>
If the type of dependency cannot be inferred from the extension, specify the type explicitly in the type XML attribute.
| | |
| --- | --- |
| | To add a dependency in Jmix Studio, select jsComponent in the screen descriptor XML or in the Component Hierarchy panel and click on the Add→Dependency button in the Component Inspector panel. |
You can add a dependency programmatically using the addDependency() method. To specify the type of dependency, pass the DependencyType enum value to the addDependency() method.
Example of adding dependencies programmatically:
timePicker.addDependencies(
        "webjar://jquery:jquery.min.js",
        "vaadin://timepicker/wickedpicker.min.js",
        "vaadin://timepicker/time-picker-connector.js");
timePicker.addDependency("vaadin://timepicker/wickedpicker.min.css",
        JavaScriptComponent.DependencyType.STYLESHEET);
Defining Initialization Function
The component requires an initialization function. This function's name will be used to find an entry point for the JavaScript component connector.
| | |
| --- | --- |
| | The initialization function name must be unique within a window. |
Specify the function name in the initFunctionName attribute of jsComponent.
The function name can be passed to the component using the setInitFunctionName() method:
timePicker.setInitFunctionName("ui_ex1_components_javascript_TimePicker");
Defining JavaScript Connector
To use JavaScriptComponent wrapper for a library, you should define a JavaScript connector - a function that initializes the JavaScript component and handles communication between the server-side and the JavaScript code.
The following methods are available from the connector function:
this.getElement() returns the HTML DOM element of the component.

this.getState() returns a shared state object with the current state as synchronized from the server-side.
Component Features
JavaScriptComponent has the following features that let you:
Set a state object that can be used in the client-side JavaScript connector and is accessible from the data field of the component's state, for example:

TimePickerState state = new TimePickerState();

state.now = "12:35:57";
state.showSeconds = true;
state.twentyFour = true;

timePicker.setState(state);

Register a function that can be called from the JavaScript using the provided name, for example:

timePicker.addFunction("onBeforeShow", callbackEvent ->
        notifications.create()
                .withCaption("Before Show Event")
                .withPosition(Notifications.Position.MIDDLE_RIGHT)
                .show());

Invoke a named function that the JavaScript connector has added to the connector wrapper object.

timePicker.callFunction("showValue");

connector.showValue = function () {
    alert(timepicker.wickedpicker('time'));
};
Using JavaScriptComponent
This section describes integrating a third-party JavaScript library to a Jmix-based application taking Quill Rich Text Editor as an example. To use Quill in your project, you should follow the steps below.
Add the following dependency to the build.gradle file:

implementation 'org.webjars.npm:quill:1.3.6'

Create the quill-connector.js file in the src/main/resources/VAADIN/quill directory.

In this file, add the connector implementation:

ui_ex1_components_javascript_RichTextEditor = function () {
    var connector = this;
    var element = connector.getElement();
    element.innerHTML = "<div id=\"editor\">" +
        "<p>Hello World!</p>" +
        "<p>Some initial <strong>bold</strong> text</p>" +
        "<p><br></p>" +
        "</div>";

    connector.onStateChange = function () { (1)
        var state = connector.getState();
        var data = state.data;

        var quill = new Quill('#editor', data.options);

        quill.on('text-change', function (delta, oldDelta, source) { (2)
            if (source === 'user') {
                connector.valueChanged(quill.getText(), quill.getContents());
            }
        });
    }
};

| | |
| --- | --- |
| 1 | Handle changes from the server-side. |
| 2 | Subscribe on the textChange event. |

Create a screen with the following jsComponent definition:

<?xml version="1.0" encoding="UTF-8" standalone="no"?>
<window xmlns="http://jmix.io/schema/ui/window"
        caption="msg://richTextEditorScreen.caption">
    <layout>
        <jsComponent id="quill"
                     initFunctionName="ui_ex1_components_javascript_RichTextEditor"
                     height="200px"
                     width="400">
            <dependencies>
                <dependency path="webjar://quill:dist/quill.js"/>
                <dependency path="webjar://quill:dist/quill.snow.css"/>
                <dependency path="vaadin://quill/quill-connector.js"/>
            </dependencies>
        </jsComponent>
    </layout>
</window>

Add the following screen controller implementation:

@UiController("sample_RichTextEditorScreen")
@UiDescriptor("rich-text-editor-screen.xml")
public class RichTextEditorScreen extends Screen {
    @Autowired
    private JavaScriptComponent quill;

    @Autowired
    private Notifications notifications;

    @Subscribe
    protected void onInit(InitEvent event) {
        QuillState state = new QuillState();
        state.options = ParamsMap.of("theme", "snow",
                "placeholder", "Compose an epic...");

        quill.setState(state);

        quill.addFunction("valueChanged", javaScriptCallbackEvent -> {
            String value = javaScriptCallbackEvent.getArguments().getString(0);
            notifications.create()
                    .withCaption(value)
                    .withPosition(Notifications.Position.BOTTOM_RIGHT)
                    .show();
        });
    }

    class QuillState {
        public Map<String, Object> options;
    }
}
As a result, the Quill Rich Text Editor is available on the screen: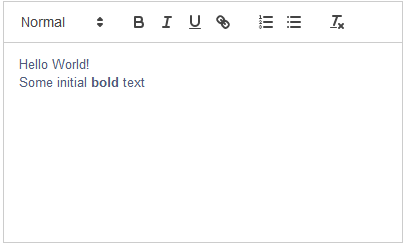 All XML Attributes
| | |
| --- | --- |
| | You can view and edit attributes applicable to the component using the Jmix UI inspector panel of the Studio's Screen Designer. |
JavaScriptComponent XML Elements