ColorPicker
ColorPicker allows a user to preview and select a color. The component is a button that opens the color panel when clicked. The button is painted in the color selected by the user. ColorPicker returns a hexadecimal (HEX) value of the color as a String.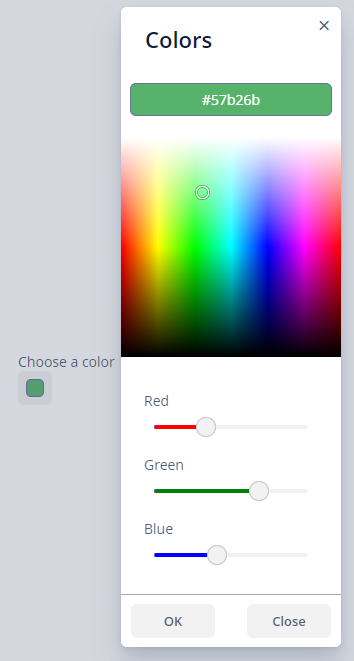 Data-aware ColorPicker
To create a color picker connected to data, use dataContainer and property attributes.
@JmixEntity
@Table(name = "UIEX1_CAR")
@Entity(name = "uiex1_Car")
public class Car {
    @JmixGeneratedValue
    @Column(name = "ID", nullable = false)
    @Id
    private UUID id;

    @Column(name = "BRAND")
    private String brand;

    @Column(name = "MODEL")
    private String model;

    @Column(name = "COLOR_HEX")
    private String colorHex;
}
<data>
    <instance id="carDc"
              class="ui.ex1.entity.Car">
        <fetchPlan extends="_base"/>
        <loader/>
    </instance>
</data>
<layout>
    <colorPicker caption="Color of the car"
                 dataContainer="carDc"
                 property="colorHex"/>
</layout>
Events and Handlers
| | |
| --- | --- |
| | To generate handler method stubs in Jmix Studio, use the Generate Handler button in the top panel of the screen controller code. Or you can select the component in the screen descriptor layout and use the Handlers tab of the Component Inspector panel. |
ContextHelpIconClickEvent
All XML Attributes
| | |
| --- | --- |
| | You can view and edit attributes applicable to the component using the Component Inspector panel of the Studio's Screen Designer. |